Your Health Is
Precious To Us
We offer the best healthcare
for you and your family
At Lifenity, we offer the clinical laboratory testing services in Dubai.
We are the epitome of integrity and credibility, all tests we perform are highly quality-checked end to end, right from sample collection to report generation and approval by our certified and experienced resources, thereby establishing relationships based on reliability and trust with our customers. The infrastructure of our laboratory is backed by high-tech solutions from reputed companies like Vitros, Abbott Architect, Beckman, and Biorad. It allows us to conduct efficient and effective tests with an accurate T.A.T time. Lab technicians at our clinical lab are DHA certified, and they follow standard operating protocols and formulate policies that ensure the patient's safety.
The collaboration of our high-tech labs and well-qualified technicians allows us to offer a plethora of services at our clinical lab, ranging from regular tests like the albumin test, the CCP, CEA, GGT, HCG quantitative serum, insulin, and T3, T4, i.e., the thyroid test, in Dubai. It also includes tests like testosterone ,haematology eosinophil count, and Microbiology tests like Ureaplasma culture. We also offer you advanced tests like food intolerance tests, NIPT, DNA profile testing, HPV, and allergen profile testing.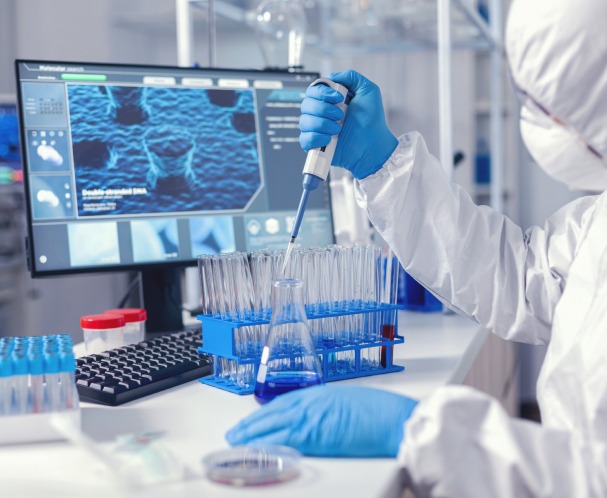 All tests at Lifenity are approved by our experts, who are trained in real-time conventional testing techniques. which makes us an organisation of 5100+ skilled lab professionals and occupational therapists. Our technicians make sure to act following sterilisation and disinfection agreements to ensure the safety of our patients. All of this combined makes Lifenity Wellness the top clinical laboratory in Dubai.
We have customized test packages that satisfy our consumers' needs and offer to counsel them to prevent them from undergoing major health crises. Our exclusive privacy policy makes sure that all the information about our patients is confidential and that there's no spill of vulnerable information.
Our clinical laboratory services in Dubai are CLIA-88, Subpart I, and Proficiency Testing Programs-certified. It helps us maintain the quality standard of our laboratory and continue being the most trustworthy clinical laboratory in Dubai.
We offer lab home services that follow all the safety protocols and deliver accurate results that help you in preventative treatments. You get to know about scientific concepts, and it's cost-effective and convenient for you.
Experience Our Advanced Healthcare Facilities & Services
Our healthcare products and services are used by eminent hospitals and speciality clinics