Welcome to the journey of Lifenity.
Your complete wellness solution.
Right and conscious health decisions made at the right time are inevitable if one seeks longevity and quality of life. We at Lifenity enable you to make these decisions with our effective diagnostic, preventative healthcare, and medical services that are backed by our trusted monitoring and operational ecosystem. We strive to empathise with our patients and clients concerns and resolve them with the best and most affordable healthcare services.
With the mindset of solving healthcare problems at the global level, Lifenity was founded in 2012. We started by collaborating with hospitals and healthcare institutions to equip them with ancillary support and high-tech solutions to overcome their service shortcomings and keep their primary focus on treating patients while we took responsibility for the rest. This synergy makes us the top healthcare service provider in the UAE.
To date, we have built a team of 300+ health professionals who work to improve the lives of patients. Our experts have tested more than 24 million patients, improving their early diagnosis and aiding in their treatment. Our screenings for sickle cell anaemia and thalassemia have enabled a large number of patients to get early medical attention.
As a result of our proficiency in T.A.T., we achieve an accuracy rate of 99%, which demonstrates our efficiency in testing. We have screened 2.2 Million+ patients for diabetes hypertension preventing them from potential heart attack and stroke.
Our top healthcare service in the UAE allows us to conduct over 1 million tests for industry workers, labourers, and employees. Our aim with occupational health is to provide a healthy work environment by eradicating occupational diseases, injuries, and accidents at the workplace, thereby boosting the productivity of workers and thereby their associations as well. Our drive for innovation and better healthcare also led us to offer home healthcare services in Dubai, that provide you with specialised home care to fulfill all your health needs in the comfort of your home.
Mission
We aim to provide affordable healthcare services for every stratum of society using futuristic healthcare technologies to improve the quality of life for every individual.
Vision
Our main focus is to fulfill the dream of robust health for every individual across the globe with the services that we provide.
---
Dr. Manjeet Mehta
Director - Advanced Diagnostics & Medical Genomics
Qualifications and Specialities:
PhD in Human Genetics from Jaslok Hospital
Under the guideship of renowned Oncologist Padma Bhushan Dr S. H. Advani
Post doctoral fellowship at North York General Hospital, Toronto
Post doctoral at University College London (UCL), London, UK
Trained at Yale Center for Genome Analysis, New Haven, USA
Principal Investigator with Indian Council for Medical Research (ICMR)
Areas of expertise:
Human Genome & its applications in Fetal & Adult Disease, Cancer Testing & Prediction and Lifestyle conditions including Fitness & Nutrition.
Dr. Dheepa Manoharan
Medical Director, Specialist Microbiologist
Qualifications and Specialities:
MBBS
MD
PG Diploma in Infectious Diseases
Areas of expertise:
Dr. Dheepa Manoharan, the recipient of the prestigious 'State Gold Medal in MD Microbiology Programme' has an excellent academic record in the field of Microbiology. The medal was awarded at the XXIV Convocation, 2012 by prestigious The Tamil Nadu Dr. MGR Medical University. She holds membership in The International Society for Human and Animal Mycology (ISHAM), American Association for Clinical Chemistry (AACC), Society for Healthcare, Epidemiology of America (SHEA) and Society for Young Clinical Laboratorians (SYCL).
Dr. Dheepa, a dedicated, energetic explorer of Microbiology, has grown to a commendable level in the field of Bacteriology, Mycology, Molecular Diagnostics, and Antimicrobial Stewardship in her experience spanning 9 years. She achieved her Post-Graduate Diploma in Infectious Diseases from Medversity. She also pursued her Antimicrobial Stewardship from the British Society for Antimicrobial Chemotherapy (BSAC).
Dr. Dheepa has created strong, rich footsteps in the field of Molecular Microbiology. She has also recently mastered Genomic Technology Course from Johns Hopkins University. She has comprehended the art of Molecular Training from the Centre for Disease Control and Prevention (CDC).
She has successfully accomplished the certification of Molecular Laboratory Management from the Association for Molecular Pathology. She has also voyaged to the dimension of Diagnostic Medical Mycology from ISHAM.
Beside all these achievements, she had received training in ISO 15189:2012, Certification on Infection Control (CIC), Certification on Antimicrobial Resistance. Currently, she's under training in the field of Cancer Genomics, Precision Oncology, Genetic Testing and Sequencing Technologies from Harvard Medical School. Dr Dheepa is also a participant of Genomic Technologies in Clinical Diagnostics Course from St. George's University of London.
Currently, Dr. Dheepa Manoharan is committed in the Lifenity International Clinical Laboratory, Al Barsha, Dubai to achieve her goal of exceling in the fields of Molecular Genetics, Mycology, Infectious Disease and Antimicrobial Stewardship.

Modern Infrastructure at our Labs
Our labs are equipped with world-class automated diagnostic machines for processing of normal and special tests
All the equipment at the labs are interfaced with Laboratory Information Systems (LIS) to reduce pre-and post-analytical errors resulting out of manual entries
An equipment maintenance plan is prepared, followed and closely monitored
All the equipment is calibrated at requisite intervals. Records for equipment calibration are maintained electronically at all the laboratories
Automated Diagnostic Machines
Erba XL 640 Fully Automated Biochemistry Analyzer
Perkins Elmer NBS Analyzer (GSP Instrument)
Electrolyte Analyzer Cornley RFT 500
Roche Diagnostics EM 6000 Analyzer
oche Diagnostics Cobas e411 Fully Automated Immunoassay Analyzer
Horiba ABX Pentra XL 80 5-part Haematology Analyzer
5-part Cell Counter Mindray, 5180
Fully Automated HbA1c Analyzer Aspen LD-500
Capillary Electrophoresis Machine (Sebia Capillary S2 Flex Piercing)
Government Health Centers and Health Facilities
Citizen
Private Laboratories and Hospitals
National Health Mission Limited
Airports
We offer quality services consistently across all towns – urban and rural.
---
End-to-end solutions for industrial occupational check-ups
We offer a multidisciplinary activity aimed at the protection and promotion of the health of workers by preventing and controlling occupational diseases and accidents at the workplace and by eliminating occupational factors and conditions hazardous to health and safety at work.
We ensure the development and promotion of healthy and safe work, work environments and work organizations.
The enhancement of the physical, mental and social well-being of workers and support for the development and maintenance of their working capacity, as well as professional and social development at work are also undertaken by us.
We believe in enabling workers to conduct socially and economically productive lives and to contribute positively to sustainable development.
Population screening for all diseases/disorders
NCDs, also known as chronic diseases, tend to be of long duration and are the result of a combination of genetic, physiological, environmental and behaviours factors.
The main types of NCDs are cardiovascular diseases (like heart attacks and stroke), cancers, chronic respiratory diseases (such as chronic obstructive pulmonary disease and asthma) and diabetes.
As per WHO, Non communicable diseases (NCDs) kill 41 million people each year, equivalent to 71% of all deaths globally.
We provide detection, mass screening and treatment of NCDs, as well as palliative care, being the key components of the response to NCDs.
Integrated disease surveillance programs
These programs envisage all surveillance activities in our country as a common public service that carries out many functions using similar structures, processes and personnel. The surveillance activities that are well developed in one area may act as driving forces for strengthening other surveillance activities, offering possible synergies and common resources.
Surveillance is based on collecting only the information that is required to achieve control on the objectives of diseases. Data requested may differ from disease to disease and some diseases may have specific information needs, requiring specialized system
The objective of our integrated disease surveillance strategy is to build capacity in our country, bring together key decision-makers, strengthen communication networks and foster importance of the process.
Electronic medical records and health registry
The clinical data registry records we maintain are information about the health status of patients and the health care they receive over varying periods of time. The focus is typically on patients who share a common reason for needing health care.
Our health registry allows health care professionals and others to see what treatments are available, and how patients with different characteristics respond to various treatments. This information can be used to inform patients and their health care professionals as they decide the best course of treatment and to improve care for patients in the future. Information from our electronic medical records and health registries are also used to compare the performance of healthcare providers with regard to their outcomes and resource use.
Health analytics for predictive and preventive actions
Our Predictive Analytics support population health management, financial success, and better outcomes across the value-based care continuum. It estimates the likelihood of a future outcome based on patterns in the historical data.
This allows clinicians, financial experts, and administrative staff to receive alerts about potential events before they happen, and therefore make more informed choices about how to proceed with a decision.
We believe that being one step ahead of events is most clearly seen in the realms of intensive care, surgery, or emergency care, where a patient's life might depend on a quick reaction time and a finely-tuned sense of when something is going wrong.
Wellness programs for lifestyle diseases
Our wellness programs for corporates are a comprehensive health initiatives and are designed to maintain and improve the well-being of the population through a proper diet, health screening, exercise, stress management, and illness prevention.
Workplace wellness programs not only fight the upward trend of unhealthy employees, but also decrease medical care costs and insurance premium expenses incurred. It increases the motivation to improved health.
Pathology diagnostic services for B2B & B2C customers
Pathology Diagnostic identifies the cause of disease based on clinical pathology and/or morphologic findings, It also studied on basis of history, ancillary test results and clinical signs. It is important in all areas of pathology, both in spontaneous and in experimentally-induced disease.
In experimental studies, it is important to separate out the effects of spontaneous disease and those induced by the experimental agent/test article. Diagnostic pathology is essential to investigate unexpected disease or death in laboratory animal colonies or prior to the termination of a study.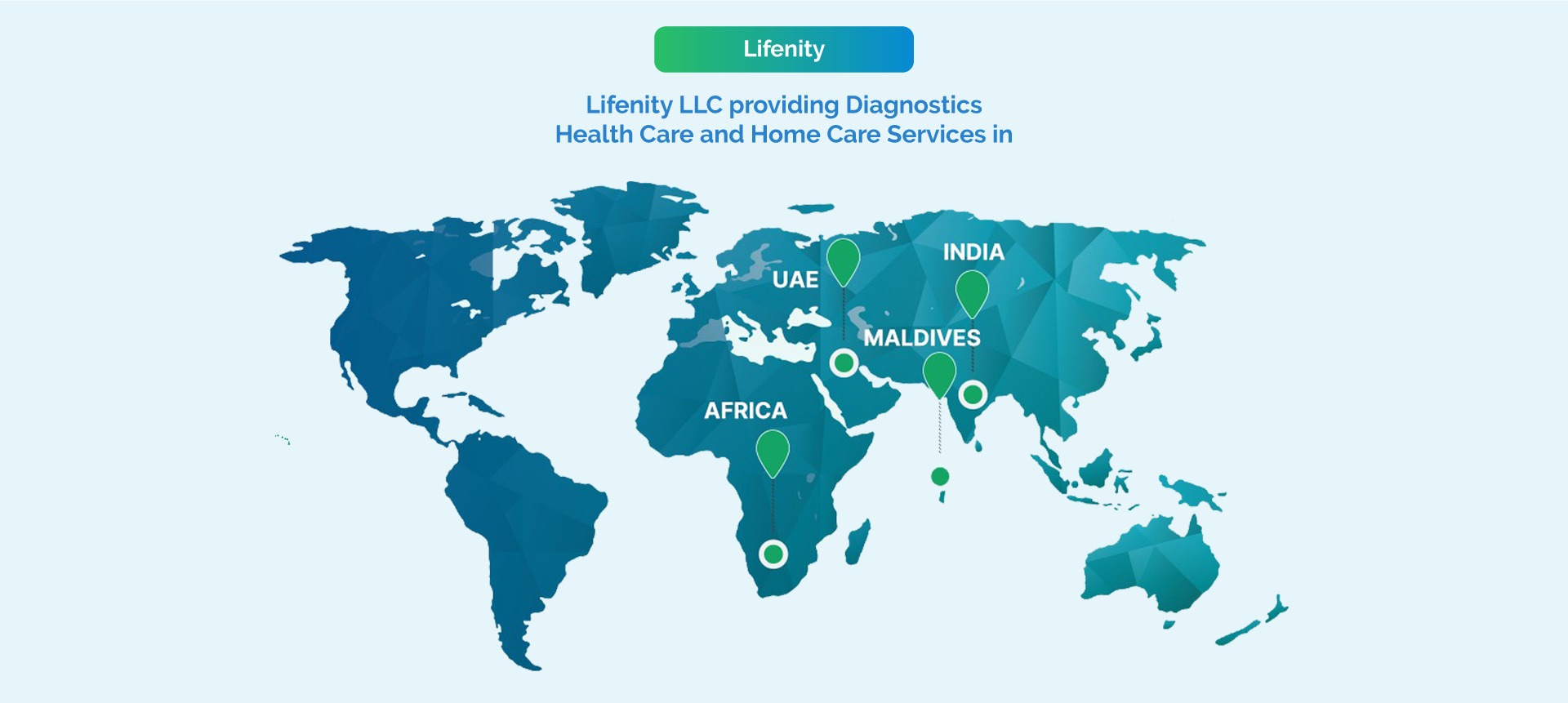 Experience Our Advanced Healthcare Facilities & Services
Our healthcare products and services are used by eminent hospitals and speciality clinics